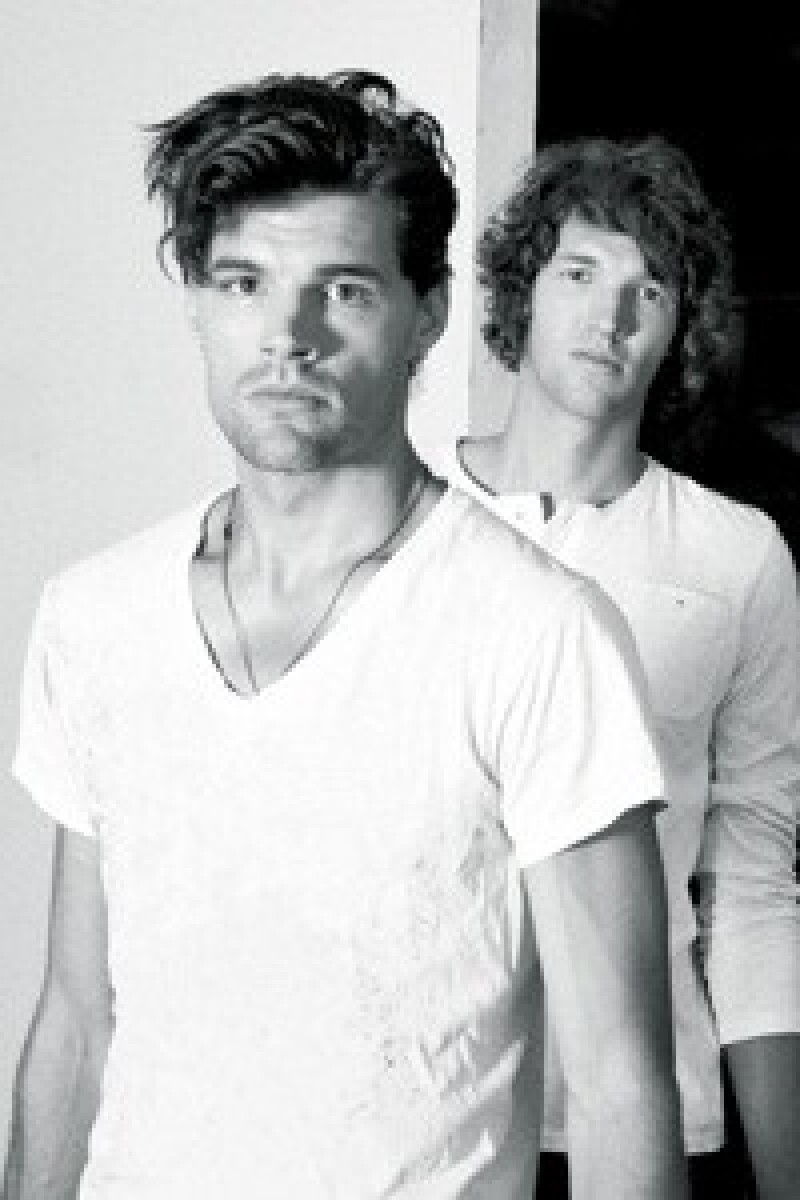 Carrying a name that evokes substance and a sense of purpose, for KING & COUNTRY make their debut with music that more than lives up to their clever moniker. Enveloping their insightful lyrics in a sea of ear-grabbing melodies, brothers Joel and Luke have forged a distinctive sound that has earned them an enthusiastic fan base as well as the respect of industry professionals who keep tapping their music for use in high profile TV shows. Together, Joel and Luke ignite each other's individual passions to form a unique, distinctive voice that blends into simmering sibling harmony, unrivaled by any other collaborative group to date.
Born in Sydney, Australia and relocating with their family to Nashville, TN, Joel and Luke remember music being a constant presence in their life. Growing up in a large family of seven kids, the siblings began their creative experimentation early on, soaking up life experiences that would influence their musical future.
"Our father was a promoter in Australia and so we grew up as a musically-centered family. I remember going to these rock shows, sitting on his shoulders, plugging my ears. It was very influential at an early age and I saw the power of music and how a melody fused with a lyric can impact someone's life," recalls Joel. "Honestly, in a lot of ways I feel like music chose me and as I grew older, I made a clear decision to fully lean into it."
The group's strengths are showcased not only through their voices, but their name as well. The name, 'for KING & COUNTRY,' was decided on after several attempts to find a name that appropriately encompasses who they are as musicians as well as their passionate personalities.
"While working on our debut record, I came up with the idea of calling us 'All the Kings Men,' but it just didn't fit exactly with what we were looking for," said Luke. "We were in the studio with our producer and he said, 'what about for king and country?' The history of that phrase is that back in the olden days, the British would go into battle shouting, chanting, 'For King and Country,' sort of as an anthem of fighting for something that they believed wholeheartedly in. We all looked at each other in the studio and we just knew that was it."
With tracks produced by Shaun Shankel, Aqualung and Ben Glover, for KING & COUNTRY's debut album, Crave, is a vibrant collection of songs, marked by emotional honesty and a riveting transparency. The first single, "Busted Heart (Hold On to Me)" is among the duo's newer compositions and was inspired from a conversation on the brokenness that every person feels at some point in their life.
"We want to deliver a message that is about believing in something much bigger than oneself... You can confidently go through the ups and downs in your life because you know that life isn't all about you and what you do but rather the hope and salvation of Christ."
Luke (For King & Country)
"There comes those defining moments in each of our lives where we so severely need someone to hold on to us," explains Joel. "It seems we are all, in different ways, shapes and forms, busted to some degree. This song is an honest confessional of: 'I can't do this thing called life on my own. I need something, or more specifically, someone greater than myself to hold on to me."
for KING & COUNTRY's music continues to gain momentum with fans and peers alike as several album tracks have already been featured in primetime television spots. "Love's to Blame" and "People Change" have been featured on the popular The CW series, "The Vampire Diaries" and "Light It Up" and "Sane" have been heard on the Lifetime network's "Drop Dead Diva."
The song "Light It Up," a tangible anthem for the group, was inspired by a friend of theirs who has had a long standing struggle with depression.
"For a time, our friend lived in a house where he would stuff blankets in the windows, switch off the lights and live for days at a time alone and in literal darkness," says Luke. "We wrote this song for him, but for the longest time couldn't work up the courage to tell him. Partly because it was his favorite tune and also because we were afraid of how he would handle it."
When Joel and Luke finally worked up the courage to tell him, their friend stood up, walked out of the room, got in his car and drove off. Roughly 20 minutes passed until he called them up and with tears in his voice saying, "Thank you for writing that song for me. It moves me, encourages me, it gives me hope."
Poignant stories and experiences like these are merely one of the many that spark for KING & COUNTRY's underlying message and what ultimately drives both Joel and Luke in the authenticity behind their music and lyrics.
"We want to deliver a message that is about believing in something much bigger than oneself," explains Luke. "The title track of the album has a line in the chorus that very plainly says, 'hope is what we crave.' You can confidently go through the ups and downs in your life because you know that life isn't all about you and what you do but rather the hope and salvation of Christ."
"We want to be known for writing music that is authentic, real and from the heart," adds Joel. "Music has been a very therapeutic thing for us. There's a lot of blood, sweat and tears that went into this record and what spurred us on is this whole idea that we can make a difference. That music, our music, can have the power to impact someone's life for the better."
Official Site: For KING & COUNTRY